Local Facts
Alcohol: While alcohol is served at restaurants mostly located in hotels, it can also be purchased at the Arrival Duty Free store in Dubai International Airport or with a special permit valid for non-Muslim residents only. Dubai operates a zero tolerance policy to driving under the influence of alcohol.

Currency and credit cards: The official currency of the UAE is the Arab Emirates Dirham (AED or Dhs). Each Dirham is divided into 100 fils and is held constant against the US Dollar at an average of 3.67. All banks operate from 8.00 am to 1.00 pm, Saturday through Wednesday and 8.00 am to 12.00 noon on Thursdays. Currency exchange houses are open until late in the evening. All international credit and debit cards are widely accepted.

Dress code: Visitors are free to dress according to their personal choice. Dress sensibly, without wearing too much revealing clothes in public places or places of worship. Shorts and skirts are acceptable for ladies. Most Emirati men and women still choose to wear the traditional national dress. Lightweight summer clothing can be worn for most of the year, but the temperature can drop quite sharply at night during the winter.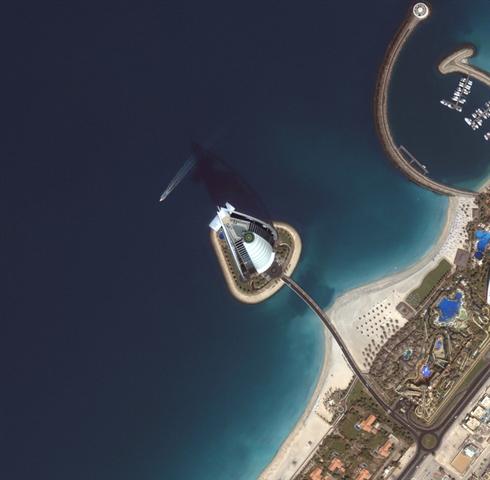 Buri Al Arab Dubai





Electricity:

The standard electricity supply is 220/240 volts. American appliances may need a transformer.

Hospitality:

Dubai is extremely well known for its warm hospitality and rich cultural heritage, and the Emirati people are welcoming and generous in their approach to visitors.

Languages:

While Arabic is the official language, English is very widely spoken, especially in business. Given the large size of the expatriate population, several other languages are also used in everyday life, headed by Hindi, Urdu and Farsi.

Photography:

Photography of buildings and sights is widely acceptable. Local people, especially the women, do not take kindly to being photographed without their prior permission. In general, it is best to avoid taking photographs (or video footage) of any individual in a National Dress.

Safety and security:

Dubai is a very safe city for visitors and residents alike, with minimal chances of untoward events. However, locking your car and minding your personal belongings is always recommended.

Visa regulations:

Travellers holding passports with a right of residence in the following countries can get a visa on arrival at Dubai International Airport - a visit visa valid for 60 days is stamped directly in your passport by immigration officials: Andorra, Australia, Austria, Belgium, Brunei, Canada, Denmark, Finland, France, GCC Countries, Germany, Great Britain, Greece, Hong Kong, Iceland, Ireland, Italy, Japan, Liechtenstein, Luxembourg, Malaysia, Monaco, The Netherlands, New Zealand, Norway, Portugal, San Marino, Singapore, South Korea, Spain, Sweden, Switzerland, USA, Vatican City.

Useful Links:

D

epartment of Tourism & Commerce Marketing (www.dubaitourism.ae)

D

ubai Chamber of Commerce & Industry (www.dcci.ae)

bai Municipality (www.dm.gov.ae)

E-mail




Dubai has a very eventful social calendar. With international sporting events, shopping and entertainment festivals, music and cultural programs held at various indoor and outdoor venues all year - round.






Varying from the world's richest horse race - The Dubai World Cup, and international jazz festivals, to the home grown Dubai Shopping Festival, Dubai also hosts regionally significant exhibitions and trade shows on a regular basis.

While the actual dates of many important events are timed to match the season, the Lunar calendar and the holy month of Ramadan change from year to year. The chart below provides a guideline to the city's many events:



January

: The Dubai Marathon, Dubai Shopping Festival, Dubai International Jazz Festival, Emirates Cup Traditional Dhow Sailing Race, Dubai International Sailing Week Regatta



February

: The Dubai Terry Fox Run, Dubai Tennis Championships



March :

Dubai Desert Golf Classic, Dubai World Cup, Dubai International Kite Surfing Challenge



April :

International Jewellery exhibition



May :

Local and international events



June :

Dubai Summer Surprises, UAE National Sailing Championship



July :

Dubai Summer Surprises



August :

Dubai Summer Surprises



September :

Local and international events (Dubai, the City that Cares festival)



October :

Gulf IT Exhibition (GITEX), UAE Desert Challenge



November :

Horse racing season, Dubai Traditional Dhow Sailing Race



December :

Rugby 7s, Dubai Air Show, Dubai Grand Prix, National Day celebrations




E-mail
The city of Dubai embraces its namesake creek, dividing it into two halves. The main sightseeing circuit in Dubai is split between

Bur Dubai

and

Deira

which lie on opposite sides of the water, and the gently curving Dubai Creek is an attraction in itself. You will have plenty of opportunities for some brilliant views of the city from the water: gleaming skyscrapers on one side, and old trading dhows on the other.
Deira's many attractions include the historic quarter of

Bastakia

, as well as old

Souks

and

covered marketplaces

. Wandering along the alleys, you can explore the Spice Souk and the

Gold Souk

. The

Dubai Museum

is housed within the beautifully restored

Al Fahidi Fort

, and is a must-see for first time visitors to Dubai. Built in 1799 to defend the city against invasion, it has served as both palace and prison and the museum's collection includes life-size figures and galleries depicting Arab houses, mosques, date gardens, desert and marine life.


On the Bur Dubai side,

Heritage Village

, located in the

Shindagah area

, is a family destination where you can watch potters, weavers and artisans at their crafts. The adjoining Diving Village offers a cultural microcosm of pearl diving and fishing.

Sheikh Saeed Al Maktoum House

, a museum restored from the house of Dubai's former ruler and dating back to the late 1800s, is within the same complex. With its unusual layered rooms and authentic wind towers, Sheikh Saeed's House showcases regional architecture at its best.


If you drive west from the city centre, you will reach the popular suburb of Jumeirah, home to some of Dubai's finest luxury hotels and resorts, unspoilt stretches of sunny beaches and water sports complexes. In Jumeirah is the

Grand Mosque

, re-built in 1998, with the city's tallest minaret, nine large domes and 45 small domes - a distinguished landmark and an important place of worship.


About 115 km south east of Dubai, in the heart of the rocky

Hatta Mountains

, is the 3000 year old

Hatta Village

, an important historical site for the region. The two towers overlooking the village used to be defence fortresses against hostile invaders, and during a relaxed day at the Village, you can visit the Houses of

Traditional Handicrafts

and

Palm Products

,

The Castle Centre

, and the 200 year old Sharia Mosque.


In contrast to the traditional attractions of Dubai and the surrounding areas, the city boasts world-class business and leisure facilities.


Dubai is home to

Ski Dubai

- the first indoor ski resort in the Middle East. This unique resort spans 22,500 square meters, which is temperature controlled at -1° to -2°, and covered with real snow throughout the year. The theme of Ski Dubai is that of a mountain resort - with qualified instructors to guide you through the intricacies of learning to ski or snowboard. Inside the resort, a retail shop, themed restaurants and the world's largest Snow Park, offer something for everyone.
E-mail
Dubai is a veritable shopper's paradise! Whether it is for

gold, electronics, carpets, spices, textiles or more.




The city is one of the largest retail gold markets in the world, selling everything from ingots to intricately hand crafted jewellery, and bargaining is welcomed almost everywhere. The Gold Souk area in Deira has glittering street-front stores and hides dozens of alleys housing smaller shops. The newly built Gold and Diamond Park on Sheikh Zayed Road is an attraction for serious jewellery shoppers.


The city is also home to some of the Middle East region's most prestigious shopping malls, boutiques and department stores that house retailers of haute couture, hi-tech electronics, home furnishings and accessories or traditional Arabic crafts. Dubai is famous for offering top international brands at unbelievably reasonable prices.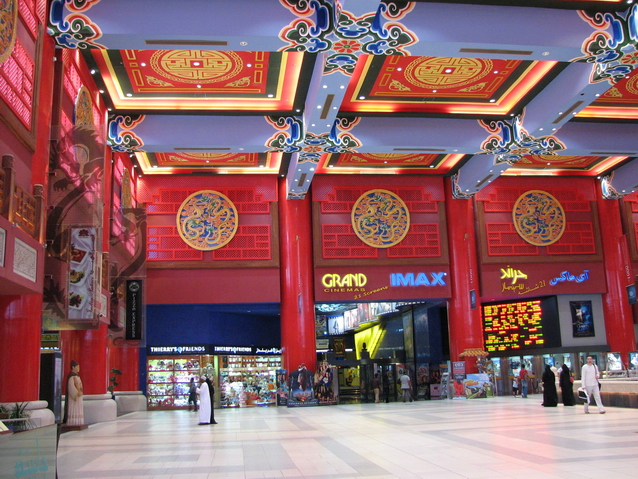 The larger shopping mall complexes also house cinema theatres, food courts, entertainment centres and play areas for children, allowing for complete family shopping experiences.

Choose to browse through the older markets and the narrow walkways located in the Meena Bazaar, Karama and Naif areas, dedicated to inexpensive reproductions of international brands; leather goods and textiles; computer and electrical accessories and Arabic perfumes.
Most shopping venues and cultural destinations sell a range of gifts and souvenirs representing Dubai: The Seven Sands of the UAE, traditional Bedouin jewellery, sand art, packaged dates and date products, Arabic sweets, wooden crafts and palm leaf handicrafts.

E-mail
Dubai is an exciting year round destination that offers unlimited opportunities for rest and recreation, be it a walk through a lush green family park, an adventurous day in the waters of the Arabian Gulf, or a pampering session at one of the many health spas.



Beaches

: Some of Dubai's beaches are attached to private hotels, where, for a small fee, you can spend the day on the sand and in the waters of the Arabian Gulf. Other beaches and waterfronts - the Corniche and the Creek - are free for public access, and feature a range of water sports offered by several operators.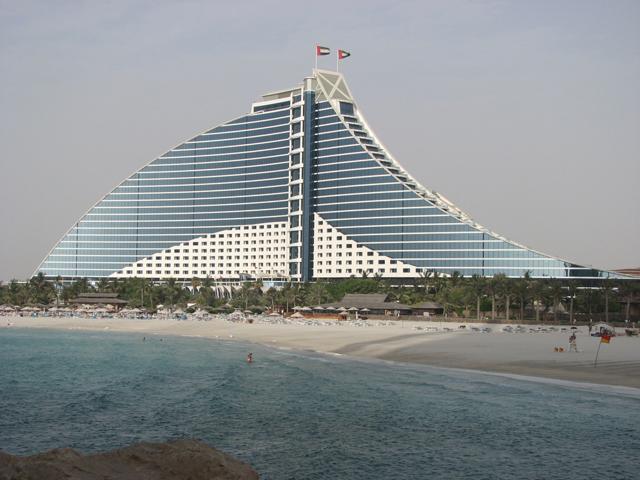 Jumeirah Beach Hotel Dubai



Desert safaris:

One of Dubai's most popular tourist attractions is the desert safari: a unique experience that combines an adventurous 4WD car ride over sand dunes with camels, belly dancers, henna designers, falconers, and a barbecue dinner by starlight. Other attractions include sand skiing, sand boarding, sand karting and 4WD desert driving



Fishing:

The warmth and shelter of the Gulf attract a large variety of fish, and several local companies provide full and half day trips to the best fishing waters about 12 km offshore from the mainland.



Golf:

Dubai has the unique distinction of being the only golfing centre in the world to host major international tournaments on both the European and Asian PGA circuits. Visiting golfers can choose from various clubs and courses, each of championship quality and presenting a different type of challenge.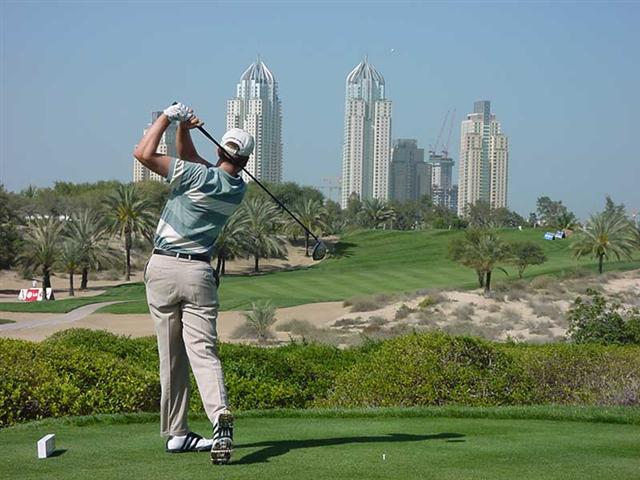 Treatments and therapies:

Dubai is home to an extraordinary number of spas and wellness clinics, ranging from internationally renowned brands to ancient Chinese and Indian holistic treatments.

Most shopping venues and cultural destinations sell a range of gifts and souvenirs representing Dubai: The Seven Sands of the UAE, traditional Bedouin jewellery, sand art, packaged dates and date products, Arabic sweets, wooden crafts and palm leaf handicrafts.


E-mail
As a leading regional commercial hub with a state-of-the-art infrastructure and a world-class business environment, Dubai provides investors with a unique and comprehensive value-added platform that make Dubai the logical place to do business.
The Most Pro Business Attitude
• Dubai believes that "if its good for business, its good for Dubai"
• Sophisticated fast track business initiatives (business set up in 20 minutes in free zones)
• 139 of the G500 MNCs in Dubai, 9 out of top 10 present in Dubai
• Robust economic clusters including technology & Internet hub, media hub, finance hub & healthcare hub.
• World class free zones


The Best Regulatory Environment


• No Corporate Tax -The only exceptions to this are oil producing companies & branches of foreign banks.
• No Income Tax
• 100% Ownership in Free Zones
• No foreign exchange controls, trade barriers or quotas
• No restrictions on capital repatriation
• Strong investor incentives and protections
• Easy access to key decision makers

Relatively Low Cost Work Environment

• Access to low cost regional talent
• State of the art telecommunications
• Competitive energy costs
• Competitive real estate costs
• Competitive import duties (5% with many exemptions)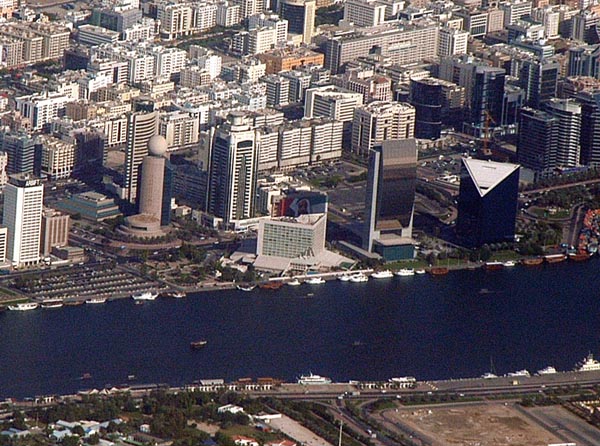 Since the formation of the United Arab Emirates in 1971, Dubai has developed rapidly from oil and gas based state to a broadly based market economy. A 30 year development plan provided for substantial investment in education and infrastructure (transport and telecommunications) and has led to rapid growth in trade and inward investment.
Dubai offers a world-class airline (Emirates Airlines), world-class tourism (over 30 five-star hotels and the world's first seven-star hotel, Burj Al Arab) and world-class sporting events: The Dubai World Cup (the world's richest horse race), the Dubai Desert Classic (golf) and the Dubai Rugby Sevens.
Dubailand is a huge development located towards the desert. It consists of 6 themed worlds & comprising over 200 individual projects it will soon become the biggest, most varied leisure, entertainment & tourist attraction on the planet. approximately seven projects will finish by 2008 forming the 1st operational phase of Dubailand. Dubailand expects to employ 300,000 and attract 200,000 visitors a day!
The Dubai International Financial Centre (DIFC) is a specially created financial district for the whole of the Middle East. It has been set up to accelerate the repatriation of $1 trillion, which is currently invested & managed outside the region. Located between the London & Hong Kong stock exchanges it is a unique free zone with its own laws.
In recent years, Dubai has established Dubai Internet City and Dubai Media City, providing the regional hubs for IT (notably Microsoft and HP) and media businesses (Reuters and CNN). In September 2003, Dubai hosted the 2003 Annual Meetings of the Board of Governors of the World Bank Group and the International Monetary Fund.
The success of the Dubai economy is the result of dynamic and visionary leadership, an ultra-modern and efficient infrastructure, the absence of government bureaucracy, and a diversely skilled, well educated, multi-cultural and multi-lingual workforce. It has an abundant supply of housing for expatriate professionals, and excellent schools and centres of further education.
Voted the safest city in the world for four consecutive years by a study compiled by Interpol. Crime in Dubai is virtually non-existent.
Prime locations of Dubai will always be in demand and are likely to provide excellent investment opportunities in the long term. It is unlikely that these locations will see an oversupply when only so much can be developed in one area. There are 15 Free-Zones where developers can build freehold property available for purchase by non-nationals. In fact, within the next 5 years there is an estimated 40,000 unit shortfall, leaving an estimated figure
of 150,000 new residents without the possibility of buying*. In addition, a buyer has the option to transfer his property purchase during his payment terms at low fees.
All this has made Dubai one of the fastest growing cities in the world, and one of the world's most prominent centres for business
and leisure. Expatriates can enjoy a quality lifestyle in a city that meets all their expectations. Dubai: a positive and liberal atmosphere, bursting with multi-cultural life, cutting edge recreational facilities and excellent business opportunities. Dubai is a tax-free haven under the year-round sun.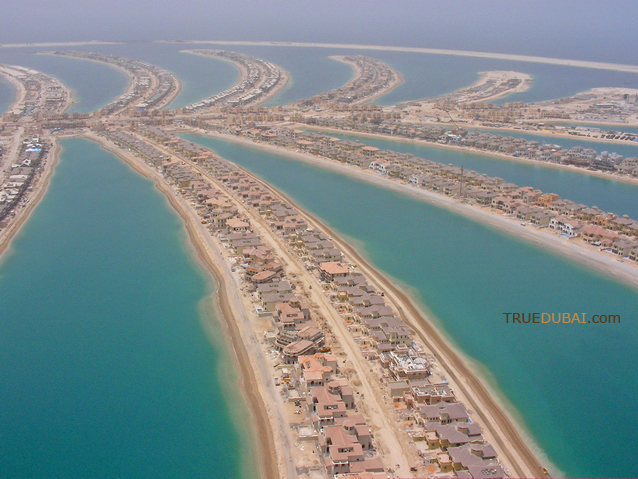 The Palm Dubai
Cost information to buy a real estate in Dubai

Are there any other costs involved when purchasing an apartment(s)?
Land Registry fee of 1.5% - 2 % payable upon completion.


Service Charge payable annually.
As it is freehold ownership, the apartment owners will have a say on who the management company is, therefore the management company will always charge competitive rates.


Solicitors are not usually used as the contracts are easy to understand & non-negotiable.


TAX-FREE capital growth and rental income in Dubai.
What are the fees for the tenant if renting the apartm
ent?

There is a tax payable annually on rent of 5% of rental value. It is normally added on to the DEWA (Dubai Electric & Water Authority) bill and is paid by the tenant only. This tax does not apply if the apartment is not being rented out.
Buri Al Arab Dubai
E-mail